Joined

Aug 4, 2004
Messages

13,654
Location
How about a different kind of graph? I tried capturing a 400Hz reference tape with the CR-70 and DR-2 and normalizing both to -6dB for a head-to-head comparison:
CR-70: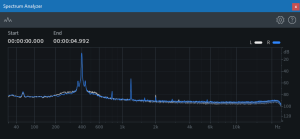 DR-2: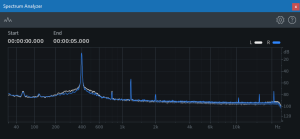 Computer-generated pure 400Hz sine wave:
The overall noise level is pretty similar apart from the DR-2's spikes in the high end. The CR-70's high end bends up uniformly a little more instead - maybe those are just two different ways of handling the same phenomenon.
The "side spikes" on the CR-70 are odd. They are at precisely 35Hz above and below the main 400Hz peak, so it doesn't seem random. I wonder if this is a problem or what - is something 54dB below the peak even audible?